Ok, I know we're all getting tired of hearing "web 2.0". However, there are some cool things to come out of it and one of them, although still very young, are memediggers.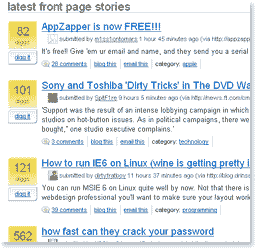 Memediggers are sites which rank content based on user votes. They usually involve news stories, but can also include web sites, rss feeds, or anything else.

The basic idea is that users submit news stories. They appear in a list with a very brief description. Other users get to vote on them and the vote count bumps the topic up or down in ranking. Those lucky enough to get bumped enough will make it to the front page. It doesn't matter if the original news story was spammy, since it would quickly get buried. Essentially, memediggers help filter out interesting content from the rest of the junk.

But how does this help you?

Well, if you have not noticed, the web is changing! Submiting your web site to the search engines is hardly enough these days. But there is a good deal of traffic to be had from making an appearance on one of these memedigger sites! Even if you're only listed in the "New Release" page for just a few hours, it's often enough to bring you a nice bump in traffic. If you're lucky, it'll stick.

Another note, it's relatively painless to submit your site to these servies. Most have a simple sign up form with an email validation. Don't worry about using a real email, with all the web 2.0 disposable email services out there, you can take your pick. Actually, this is an interesting topic of its own. I may do a blog about this next.

So where should you head to submit your stories? Here is my favorite list:

Digg - the biggest memedigger around. You'll get a big bump in traffic just from the first article posted, but will very likely be buried within a few hours.

Reddit - also popular, but less visitors. This site will keep your submission around a little longer since less people submit to it.

Shoutwire - Don't get too confused with their layout. The signup button is on the right-side of the screen, but on my monitor, it's almost hidden.

Boxxet - I really have no idea what this site is aiming for just yet as they are in beta. Still, it couldn't hurt to submit.

Newsbump - Just like reddit, this is another less popular memedigger, but will keep your article sticking around longer.

FeedButler - Sort of a memedigger that works with RSS feeds, although it looks more like an RSS directory. Submitting is easy enough.

NowPublic - This is another memedigger site where you can submit your article or news. They have a simple signup process with the usual email verification. They have a method to share news you have written and news that you are reading. The latter option is the one you probably want to submit to.

TailRank - While they do not require email verification to sign up, which does make submitting to them easier, I find their homepage somewhat confusing. TailRank says they find the hottest posts from thousands of blogs via incoming links and the text of the post. This sounds more like the method Google uses for pagerank, but nonetheless, it is worth submitting to.

So give it a try. If you have something interesting to tell people about, you'll go far with memediggers. What a weird name though, huh?